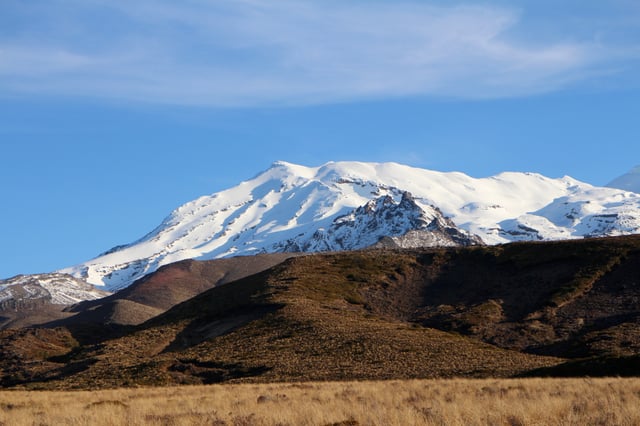 Hey there! You have probably arrived on this page thinking I miss the mountains and when can I visit the Ruapehu area? I understand, the mountains are a big part of my life too! So I want to help you understand the rules around the NZ Covid-19 lockdown and how that applies to visiting and recreating in the Tongariro National Park, keeping you informed and up to date on the latest.
So what are the Covid-19 Alert levels in New Zealand? And what do they mean?
Level 1 - Prepare - The disease is contained in NZ
Level 2 - Contain - The disease is contained, but risk of community transmission remains.
Level 3 - Restrict - Highly likely the disease is not contained - Some restrictions eased, otherwise quite similar to level 4
Level 4 - Lockdown - Disease not contained - Essential services only
The information above was gathered from the NZ National Covid 19 website.
Each level impacts what happens in the mountains here, so lets check out the specifics.
15th May 2020 update
As of Thursday 14th of May we have made it to Level 2! Woohoo, that is awesome news, well done New Zealand!
I am so happy to help you understand what we can now do at level 2. It is not back to normal completely just yet. But I am happy that we can start enjoying nature and the Ruapehu area more. Looking forward to seeing more of your beautiful faces.
Who is allowed to travel to Ruapehu / Tongariro National Park at the moment?
People who are currently in New Zealand, you can visit us now! We have been looking forward to inviting people back into our area. Yay!
Now we can all travel inter-regionally. Flights have opened up domestically, ferries are open and public transport such as buses.
There will be health and safety considered with physical distancing adhered to. If you want to travel here check out the airline, bus or ferry company to find out availability, capacity and what you can do to travel safely.
Australia and International visitors, there is no certainty about when the borders will open up into New Zealand. Stay tuned for any changes in international travel restrictions.
For New Zealand advice and updates on international travel, check out this Safe Travel - Covid 19 website, for updates.
Are there any restrictions for the roads around Ruapehu?
No. The roads have now opened up which is great!
Previously all roads leading up the mountains were closed by gates. We now can go further into the mountains, the main focus at level 2, is not to push it too much and keep your recreating safe.
So what can and can't I do in the Ruapehu area?
There is a lot more areas we can visit now and a lot more recreationally we can do, which is awesome for us itching to get out!
Just a few examples, we can go for longer hikes, multi-day even! We can stay in huts and more........
If you would like to find out about a specific outdoor activity, like for example rock climbing or mountaineering, check out the Mountain Safety Council that lists what you can and can't do in what region and extra safety measures concerning limiting spread of Covid-19.
My main observation from this website was that to stay within your limits. To keep it safe so that there is a very small chance that you would need help from rescue services.
Remember it is starting to get into winter conditions. Don't head out into the snow if you do not have a high level of mountaineering experience, equipment and good skills at reading a forecast.
If in doubt stay on the lower walks on the mountain.
Recreate in a group up to 10 people.
Have their details to ensure contact tracing is possible just in case someone gets covid-19.
People you don't know keep at 2 metre distance.
Wash your hands regularly. I recommend having hand sanitiser handy, especially when you are away from hand wash areas.
Bring cleaning products with you, especially when using common toilets, huts and other communal areas. DOC will be servicing this less in winter, so we all need to work together to keep things clean.
Just remember NO 'wipes' are to be put into the drop toilets.
Stay at home if you even get a tickle in your throat, or a sore nose. Call healthline 0800 611 116 to get advice on what to do.
Looking forward to seeing more people out there!
What is the Department of Conservation saying about Level 3?
Hygiene
be prepared to undertake additional cleaning when using huts, toilets, and campsites
you will need to carry your own cleaning and protective equipment to safely use shared facilities (including toilets)
leave facilities clean
Keeping safe
stay home if you are unwell
enable contact tracing - tell someone before you go, and use the hut books
practise physical distancing - 2 metres for people you do not know.
For more on the latest announcement check out this DOC website update page.
Huts have a booking capacity up to 10 people. As of 14th of May huts, lodges and campsites are free to book. To book online check this link out for the DOC website.
Hunting
Hunting is now permitted on DOC land, recreational hunters can apply online for an open area hunting permit. Hunters can check their existing permit, it may still be current.
Check this link from the DOC website hunting, in regards to specifics on permits and considerations.
Conclusion
I am so grateful everyone in New Zealand has the option to experience the mountains in Ruapehu now.
The main thing to remember we are at level 2, so covid-19 is still within our country. We just need to keep our recreation safe. Our hygiene practises regular and be kind to one another.
Looking forward to seeing you out there.
References in this post
DOC website Covid- 19 update page
Mountain Safety Council specific recreation rules
7th May 2020 Update
We are currently at Alert Level 3.
This will be reviewed on Monday 11th of May 2020.
Who is allowed to travel to Ruapehu / Tongariro National Park at the moment?
Only people that live local are allowed to walk or recreate in the Ruapehu area.
How far can we drive?
The answer from the government is "You should drive as short a distance as you can, and still do the activity. You must stay local."
Staying within your region is important, unless you live right on a boundary. It has been mentioned as an example that you can go to the beach but not your favourite beach.
So for us, it is about what is your local nature walk? Whatever it is that's the one to go for. If you have to travel a long way to Ruapehu, you're travelling too far.
It is also just for exercise. People have been told not to linger and hang out. Many people at Christchurch beaches who were relaxing were told to move on back home. So know your purpose, go for that and then head back home.
So basically, get outside, stay healthy, keep it super local. Then later on the sacrifices we make can mean more freedom for the future.
If you need more clarity and details on this check out the Covid 19 Website.
Are there any restrictions for the roads?
*Bruce Road is currently closed
*Mangetepopo Road is closed
*Ohakune Mountain Road is closed
*Tukino Mountain Road is closed
*Click here to see the latest announcements from Department of Conservation.
So what can and can't I do in the Ruapehu area?
If you're really local, short walks from Whakapapa Village and walks on the lower mountain of Ohakune are good up to 3 hours of active safe recreation.
*Short walks currently open to the local region: Lake Rotopounamu, Tupapakura Falls, Whakapapanui Track, Taranaki Falls, Silica Rapids (top end of the track cannot park, just walk down). As well as lower mountain Ohakune walks.
The reason why the roads are closed around the mountains is to limit the possibility of people needing help from rescue authorities, so keep it safe and keep it local.
If you're unsure about a specific activity, this website is from the Mountain Safety Council lists what you can and can't do in what region, I have found it super helpful as I am a keen outdoors lady.
An example of a possible search on the website is eg, Ruapehu district - Mountaineering, a detailed answer saying it is not allowed under Level 3 lockdown and the reasons why, has helped me and I am sure it can help you.
If you would like a more vague overview of recreation under the different alert levels check out the Sport New Zealand Website.
What is the Department of Conservation saying about Level 3?
We can do low-risk activities
We need to keep a 2-metre distance from others
Our personal contact is limited to your bubble
The activities are limited to a maximum of 3 hours
Our travel is kept local.
All DOC facilities are closed including huts, toilets and campsites.
Conclusion
To progress lower down in the alert levels we have to work as a team of 5 million and make some sacrifices. So what that means is to keep our recreation safe and as local as possible.
We are going to have the decision of the next step on Monday 11th of May 2020. We need our country to be safe, that is the priority right now. Once that is ascertained then our freedoms extend and we can explore Ruapehu more. Yay!
I look forward to seeing more of you out there when the time comes! So for now keep safe, look after yourselves and stay tuned for more.
Sources: